Overview
This article can help you diagnose why Chronicall's Multimedia is hitting issues routing calls to Skill Groups or Agents. 
Cause
Potential Causes:
Services Not Running
Ghost Calls
Invalid Agent State
Skill Level Affecting Call Routing
Agent Stuck In Event
Invalid Routing Scheme In IP Office
Resolution
Follow the steps below to diagnose and resolve the related issue.
Verify The Services Are Running
Multimedia will not function at all if critical system services are not running.  Follow the article linked here to ensure that Chronicall services are running.
If the services are running and you need to restart them, please follow this article which covers plugging the Multimedia Queue so you do not lose any callers on hold.  This is a more in-depth process for a service restart, as you never want to restart Chronicall services during business hours with Multimedia without plugging the queue first.
Call Stuck In Queue
Try manually transferring the call to an available agent. 
To do this, navigate to Realtime Displays > Group Timeline > Queued Calls.  Here you should see a list of the calls in queue.
Right click on the call in question, and transfer it to an available agent.
If the call is unable to be transferred, it is likely a ghost call that is no longer in the system due to a service restart or missed packets. 
Log into the Diag tools for Chronicall to see if it is an actual call in the queue via the steps in this article here.
Invalid Agent State
Check the agents status in Agent Timeline.  Log into Chronicall, and select Realtime Displays > Agent Timeline.

If the agent isn't showing on this screen click on the Filter Displaying Agents button as shown below.

Check the box next to the agent having issues and then select Apply.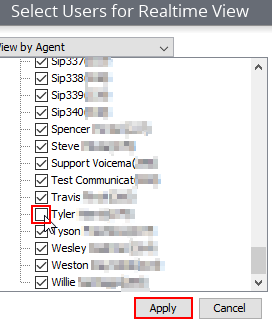 Right click on the agent in question, and select visible groups.  Make sure the groups you are wanting to view are checked.  You can show a max of 3 groups at a time on this screen.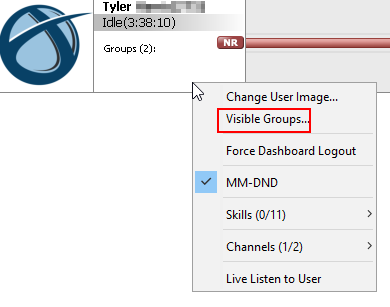 Now we need to check the Chronicall Dashboard on the user's end.  Ensure the agent is logged into Chronicall Dashboard and ready as shown below. 
Verify they are not in DND on their physical phone or for Multimedia (MM) dashboard. 
Next, verify they are showing Green in their enabled Skills. 
You can click the arrow next to Enabled Skills to see what Multimedia skills they are setup for.
If they cannot go ready, relaunch Chronicall Dashboard by right-clicking the Xima icon down by the clock and selecting Relaunch.  Then have the agent try going ready again.
Skilled Based Routing
Verify the user has the correct numerical values for each Skill Group they are enabled in.  You can refer to this article on the setup process for the Skill Based Routing. 
Keep skill numbers in mind if it appears an agent isn't getting calls from a specific skill queue.  Chronicall will often keep an agent available if he has a higher skill in other queues for example.  That way the system keeps skilled agents available for each skill group to meet business needs. 
This article covers Skill Based Routing in more detail if you have any more questions.
For example, in this screenshot below (Multimedia Configuration > Multimedia Skills) you will see this agent is skilled as a 5 for Demo's, but as a 10 for Avaya CM Sales.  It there is a call in the Demo queue, it may hold this agent back so he can be available for Avaya CM Sales or Cisco Sales depending on queue duration and agent availability.
You can also review the Agent Timeline under Realtime Displays > Agent Timeline to research who was available at a given timeframe. 
Keep in mind you can right click on the time bar up top to specify a different day and time as the default view shows all the live Realtime data.
Agent Stuck In Event
If it appears that an agent is stuck in an event in Realtime and cannot answer calls because of this, please refer to this troubleshooting article here.
Call Routing in PBX
For Avaya IP Office, please refer to this article to verify call routing is set up correctly in Avaya Manager.  
Once you have verified Avaya IP Office routing, refer to this article to ensure the Tags and Skills are setup correctly.