Issue Description
I have an agent on my realtime stats that has been stuck in same event for a long time when they're not actually in that event.
Cause
There are a number of reasons why an agent would get stuck in the same state. Some of the most common reasons are due to missed packets on the network or network lag. Chronicall needs a stable network to work properly! If you notice this is a recurring issue, it is recommended you update to the most recent version of Chronicall.
Resolution
Disclaimer: Xima Software assumes no liability in any form for any data loss, data corruption, or software malfunction resulting from direct access to the Chronicall Database. This document and the corresponding information is provided AS-IS with no warranty. Xima Software reserves the right to change the Chronicall Database schema at any time without warning.
Force Drop Agent
Notate which agent/extension is stuck in the event.
Go to the IP Address of the Chronicall server with port 9080 and adding a "/diag" to the end (IE http://192.168.24.0:9080/diag), or if you're already on the Chronicall server simply go to http://localhost:9080/diag
When it asks you for a Username & Password, you will use a Chronicall Administrator user account to sign in (the default Administrator credentials are 'Administrator' for the username and 'password' for the password)
Now you are on the Chronicall database, be very cautious when maneuvering around here!
Click on "Drop Agent"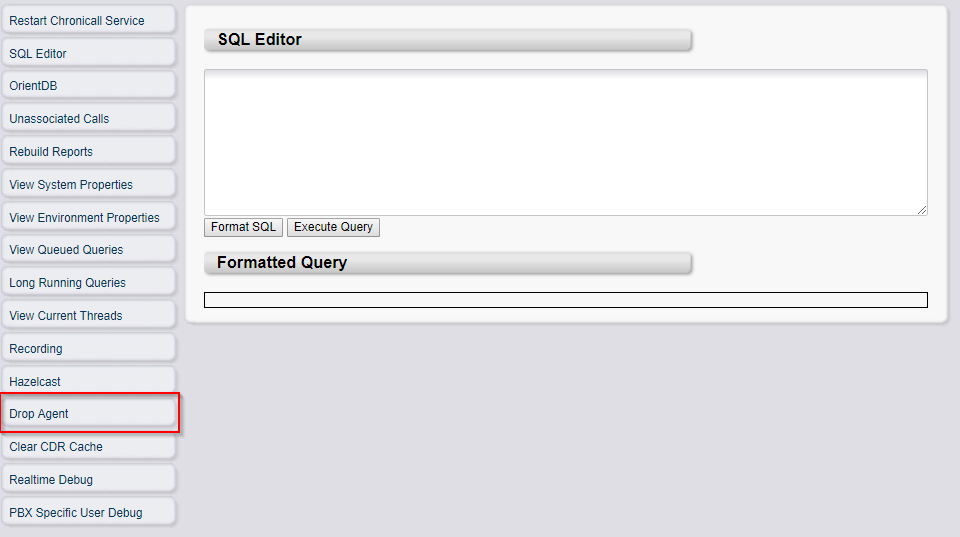 Select the agent/extension that is stuck in the event and click on "Drop Agent." This will drop the agent from their current status and refresh.
If for any reason the agent is still stuck, it is recommended to restart the Chronicall services. Be sure to do this after hours if you are a Multimedia customer, and keep in mind it will cause a lapse in call logging.
If Dropping the agent in the database doesn't change their state, you can try refreshing users and groups or have them make a phone call to refresh their status.