This option is the ability to allow agents to take calls from contact center skill groups without logging into the Agent Desktop application or the Contact Center Agent Client. The agent will have no control over their skill group participation but if their phone is logged in and they are not on DND, they can receive the skill group calls. It is up to a manager to enable the agent's in their skills as outlined later in this article.
To decouple the agents from dashboards, as an Admin of Chronicall, navigate to Admin ► System Settings ► Multimedia Voice and set the following setting to "False"

Note: The agent will not have visibility of some key contact center features including the ACW timer, Missed Call timer, or if they have been reserved for a queue callback.
Managing the skills
It is up to an Admin or Manager user account of the Chronicall software to regularly check and ensure the agents are enabled in their appropriate skill groups. This can be done in Agent Timeline, Group Timeline or Supervisor View (HTML)
Agent Timeline and Group Timeline:
Open either timeline tool and find the agent you need to enable/disable from their skill. Right-click on the agent and select "Skills" to choose each skill that is applicable.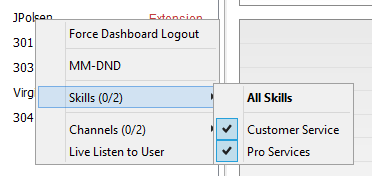 Supervisor View (HTML)
Open Supervisor View by navigating (in the HTML client) to Realtime Displays ► Supervisor View.

Find the applicable agent and select the ellipsis menu button in the top right corner. Select Manage Skills