Agent Export fails to import into Chronicall.
This is a known issue with the Chronicall release 3.6.x that is resolved in 3.8.6. If on 3.6.x first update Chronicall to 3.6.56, then 3.8.6. Screenshot of the error below.
Agent Export Does not match the expected format.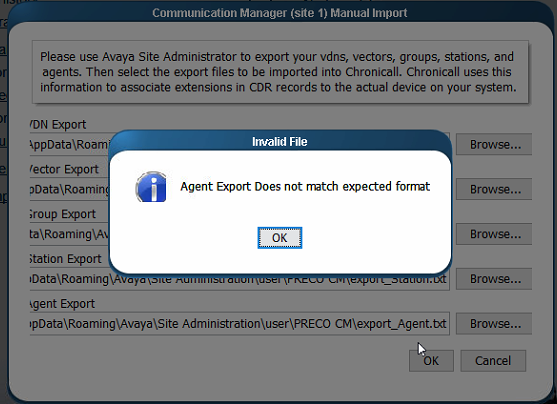 Environment
Applicable Chronicall Versions
Applicable Operating Systems
Cause
A bug in 3.6 that fails to import valid Agent Export files.
Resolution
Update to 3.8.6 if you know you have valid Agent ID text file.
Steps
First verify in Avaya CM that you have valid users for the Agent Id's via the screenshot below. If you do not have any Agent ID's listed here, you can find a blank agents.txt file here with properly formatted columns to import.
Once you have verified that you have Agent ID's inside Avaya CM, make sure you are properly exporting them. Right Click on this Agent ID screen, and select (Export...).
Verify the export location, and select OK.
Log into Chronicall, select User Management, then select Refresh Users and Groups.
Be sure to import all related exported txt files from Avaya CM. Now that you are on 3.8.6, it should work without issue.