Chronicall Desktop fails to work after uninstall and reinstall.  
If you ran the installer but it won't bring up the configuration page, or fails to connect to Chronicall.  It may be holding onto old data from the previous instance.
This is commonly the result of running the Apps & Features uninstall, and the system not removing specific files because they were in use during the uninstall process.
Steps
1.  After selecting Uninstall from Apps & Features from Chronicall Desktop, check the following locations to see if there are still any remaining Chronicall Desktop files.
C:\Users\[User in question]

2.  Is there a .chronicall folder still? Go ahead and delete this folder.  If it fails to delete, make sure all Chronicall related processes are closed in Task Manager.
3.  Next browse to this file path.  C:\Users\[User that downloaded the Desktop Function]\AppData\Local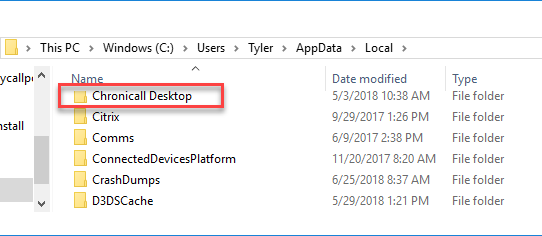 4.  Is there a Chronicall Desktop folder still? Go ahead and delete this folder
5.  Try running the install function one final time afterwards. If it still fails, reach out to us!