If you are utilizing Multimedia Voice, you will be able to control the music and announcements your customers hear while in a skill group's queue.
Though you can add your own custom announcements, some of the announcements and scheduling menus are previously recorded by default. Some examples of these static messages include:
"Your position in the queue is X"
"Your estimated wait time is X minutes"
Queue Callback Offer and QCB scheduling menu
*examples of these recordings may be downloaded below
For a full list of the default announcements and their scripts, review this article.
Chronicall includes these recordings in both English and Spanish. If you change Language Pack (pictured below) to Spanish, default messages like the examples above will be in Spanish.
If you would like to add another language OR build your own language pack in English or Spanish, you can select the ellipsis button for Language Pack inside the skill group settings menu: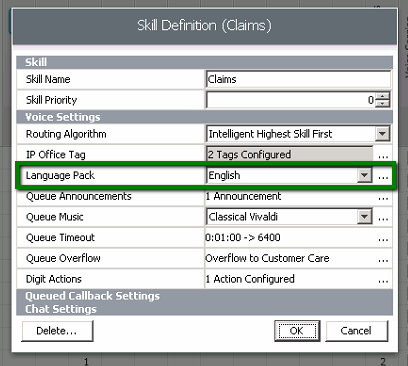 Next, select "add":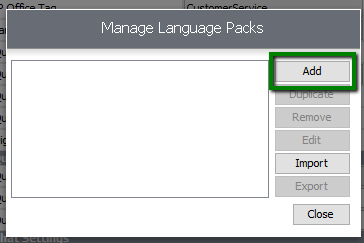 In the Create New Language Pack menu, you will first want to give your new Language Pack a title. Next, you will find a list of static messages. The list includes condensed names for the messages but if you mouse-over each name, you will see a preview of the full message: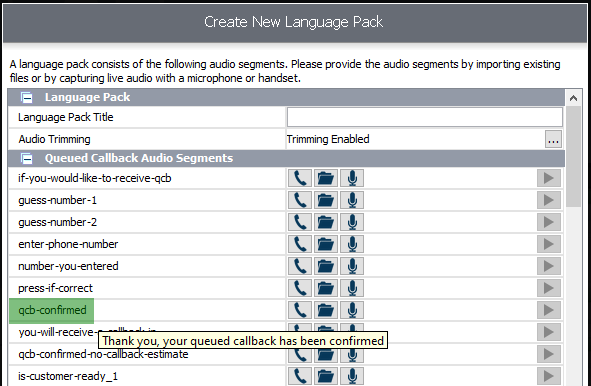 You do not need to re-record the messages verbatim but it is recommended you follow a similar format as many of these messages will be combined in sequences often including a numeric value.
To replace a message, click on the phone, folder, or microphone symbols:
The phone symbol is your ability to record the message from your handset. After selecting the button, you will be prompted to enter your extension then press record. Your phone will ring and you will be prompted with a message to record after the beep.
The folder is your ability to find an existing audio file from your computer's directories
The microphone will allow you to record using your computer's mic
After a recording is uploaded or recorded, you will see the total duration and may preview the recording with the "play" button on the right.
Please note that you do not have to re-record all messages and numbers as anything you leave "blank" will default to the provided English message.
Be sure to save your language pack when done. You can always come back and edit it further.