The following are configuration tips to get the best data from the PBX into Chronicall.
Simultaneous Ringing Groups
Configure the "Simultaneous Ringing Groups" option to better handle groups that use collective ringing mode (as set in the hunt group configuration). If a call goes to a group that has been added to the Simultaneous Ringing Groups, a Ringing event will be assigned to the Group rather than an Agent. This will provide consistency with reporting.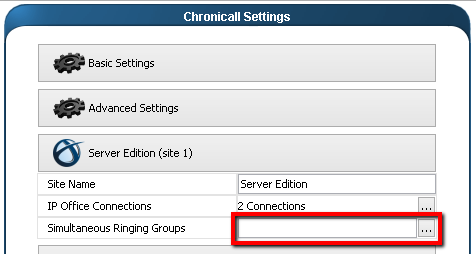 This can be found in the System Settings in the Site section.
---
IP Office TFTP Settings
TFTP Directory Read needs to be enabled to receive Agent and Group information while TFTP Configuration Read is required for trunk information.
You can enable the TFTP Configuration Read and TFTP Directory Read option within IP Office Manager >  File > Advanced > Security Settings
IPO 9.0 and older
IPO 9.1 and newer
On IPO 9.1 and newer you can still pull trunks automatically from IP Office via the steps below. If this for some reason does not work, there are steps to add them manually below.
Log into Avaya Manager.
Navigate to Security > Services > Configuration.
Set the Service Security level to "unsecure+secure"
Add the source number "TFTP_CONFIGURATION_READ" to the user "NoUser".
Manually Add Trunks

You will need to enable the TFTP Directory Read option; however, TFTP config Read option has been removed and you will need to configure the trunk manually within Chronicall's System Setting for each IP Office Connection.

Only enter external trunks. Do not enter internal trunks such as a H323 line.

---
Use a Transfer Action Hunt Group Voicemail
1. In the Queue or Still Queue Menu you present the customer the option to leave the queue to leave a voicemail. Rather than send them to a Leave Mail action, use a Transfer action.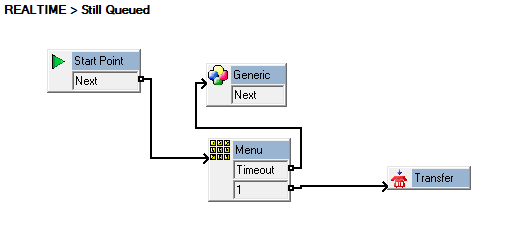 2. Within the Transfer action you will need to enter a Short Code. The example below has a short code of 575.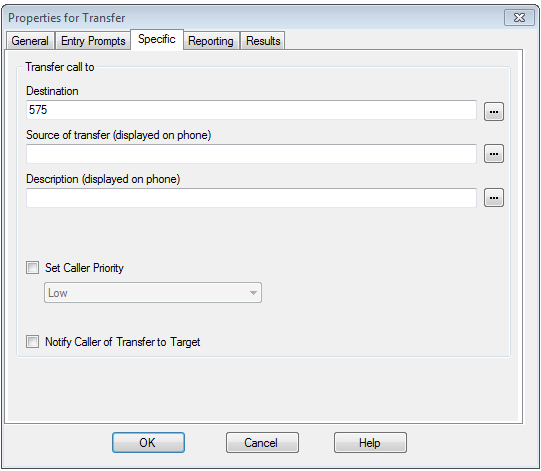 3. Configure the Short Code within IP Office Manager to go to a Voicemail Node. In the example below, we send the call to SalesVM (note that the spelling of the telephone number must match what you create in VM Pro).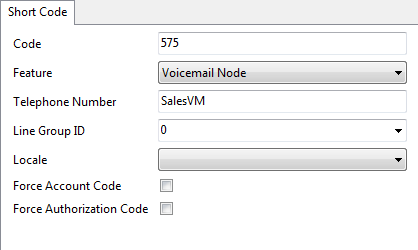 4. Configure the Voicemail Node to send the caller to the appropriate voicemail box. This example shows the call going to the REALTIME Voicemail Box.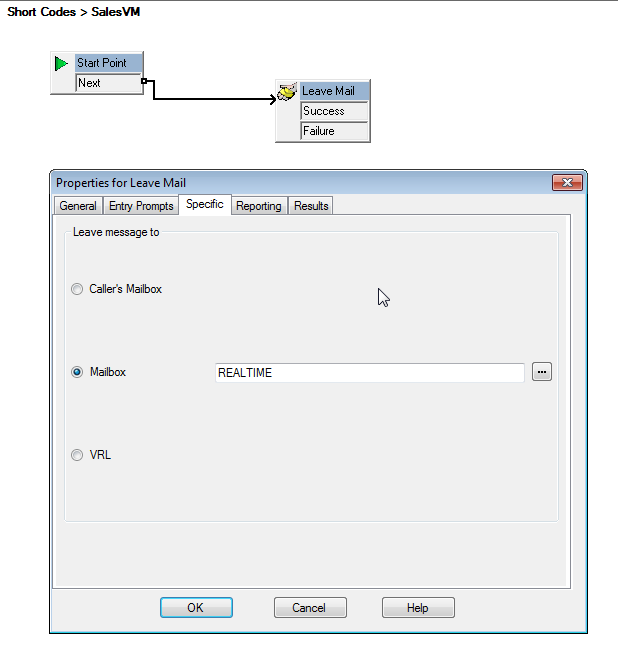 These steps will ensure that Chronicall receives the voicemail event and is able to accurately report on your call flows.
---
Hunt Group Annoucements
In order for Queue events to show up within Chronicall the Hunt Group's Announcements must be On and the Wait before the 1st Announcement must be at least 1 second.  Also, to clean up the calls within Chronicall it is recommended to disable the Syncronize Calls option.
---
Hunt Group Queue Type
For the best data Xima recommends using the Queue Type Assign Call On Agent Alert.  This will allow Chronicall to properly account for each agent ringing event on a phone call.
---
Using IP Office Account Codes
There is an IP Office setting that can prevent account codes from appearing in Chronicall. In IP Office Manager, open System > Telephony > Show Account Code and make sure that the box is checked. If it is not checked, IP Office account codes will be unusable within Chronicall.
---
Extension Login & Logout
Users should have "Force Login" enabled in IP Office Manager. This ensures that the user is truly logged out of their extension when they logout, which results in more accurate data for Chronicall.