*Please note: The After Call Work functionality referenced in this article requires Chronicall's multimedia voice licensing and only applies to the licensed agents

An After Call Work timer, often referred to as ACW or Wrap-Up Timer, is available to skill group agents. It provides the agent a short break after concluding a skill group call to wrap-up any work related to the call. The agent will not receive a new call from any skill group while the timer is present. Please note: non-skill group calls including direct calls and internal calls can still be presented to the agent during the ACW duration. 
Agent Experience:
The agent will have up to three options once the ACW timer appears following a skill group call:
Allow the timer to run the full duration


As the timer was designed, once the time runs out the agent will be fully enabled to receive a new skill group call. No action needed. 


Close the timer early
If the agent does not need the full time allotted, they may click on the button to close the timer and thus will be ready for a new skill group call immediately.

Extend their time with the snooze button

(optional)
To extend the allotted duration, the agent may select the  button. This button can be selected multiple times. However, the snooze activity is stored in the database and can be measured in reports or realtime wallboards. Thus, the agent is still accountable.
The default duration for the initial timer and snooze is 30 seconds
Adjusting After Call Work options:
As an Admin user of Chronicall, you may adjust the duration and availability of After Call Work.
Navigate to Admin → System Settings → Multimedia Voice → After Call Work Timer and select the

button to edit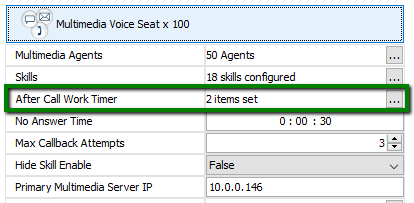 Next, you will find the option to adjust the initial timer and snooze duration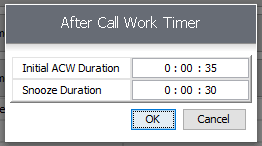 The default duration for the initial timer and snooze is 30 seconds
If you do not want your agents to have a snooze option, simply set the timer to 0:00:00 and the snooze button will no longer appear on the agent's ACW timer window once all settings have been saved. 
Once the desired duration has been set for each, select "OK" and then "Save" to exit the system settings.