IP Office 10
With IP Office Release 10, Chronicall now uses a new and secure way to connect to Avaya IP Office. This is the only way to reliably log data from IP Office 10 and a requirement on IPO 10 and above. This means that Chronicall will employ a secure connection to communicate with Avaya IP Office via TCP (connection-oriented) and not rely on UDP (connection-less) methods. Chronicall will still collect all the wonderful detailed information from Avaya IP Office that you have grown accustomed to but with more reliability and certainty.
There will be one change on the licensing side: Avaya will now require Chronicall to use the Avaya CTI license on Avaya IP Office Release 10 and beyond. Please consult your Avaya Global Catalog for pricing on the Avaya CTI license.
Here is some clarity when it comes to DevLink and IP Office. Every on-prem version of IPO R10 and R11 must have a CTI Link Pro license to connect to Chronicall, unless you are on IPO v.10.1 or newer, and have Avaya's OEM Avaya Call Reporting licensing.
All hosting is the same unless you have IPO R11 Powered By Avaya. This is Avaya's cloud-hosted version of IPO. Cloud Hosted has a built-in CTI Link Pro license.
Most sites with IPO R10 or R11, will use the regular Devlink connection. When we need to connect to the IPO via the internet instead of a local network port then you will use the Devlink Websocket option.
Each IP Office you have will need a Pro CTI license to log via TCP based DevLink3 unless you have Avaya's Cloud hosted Chronicall.
Setup within Chronicall
When adding a site, change the API from 'System Monitor' to 'DevLink3 (IPO R10)'.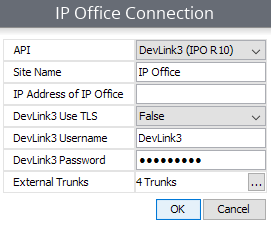 Site Name: Give the IP Office connection a meaningful name.
IP Address of IP Office: Enter the IP address of the IP Office.
DevLink3 Use TLS: Set to true if using TLS (requires a certificate of at least medium security loaded into IP Office).
DevLink3 Username: Enter the Service User with DevLink3 rights.
DevLink3 Password: Enter the password of the Service User.
External Trunks: See here for more details.
Setup within IP Office
The details below are determined by Avaya but are listed for your convenience.
The DevLink 3 protocol is available over TCP or TLS. For TCP the port on IP Office is 50797. For TLS the port is 50796.
Log into Avaya Manager. Navigate to File > Advanced Settings > Security Settings.

Default username/password is security/securitypwd

Select System > Unsecured Interface




Availability of the TCP service is governed by the IP Office security setting: TAPI / DevLink 3 on the "Unsecured interfaces" TAB in System Security. This must be checked for Chronicall connectivity.
A combination of username and password is used to authenticate the application. This is configurable on the IP Office by adding a new Rights Group and Service User via the Security Settings on the IP Office
Configure a new Rights Group and enable the checkbox DevLink3 in the Telephony API's tab




Configure a new Service User with username and password and assign it to the DevLink3 rights group

Note: Please use alphanumeric passwords only, no symbols




Note: When monitoring events, a maximum of 3xDevLink3 connections are allowed to a single IPOffice. If using multi-node flags, only 3xDevlink3 connections are allowed on a single SCN.