Multimedia skills come with a few Queue Music options by default but we opened it up to allow users to record or upload music that they prefer. To upload new queue music, go to the Multimedia Skills, select a skill, and expand the Queue Music option.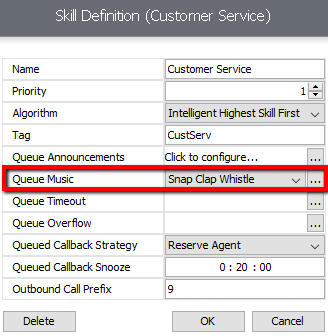 The Queue Music configuration box will open. The options are defined below.
Audio Messages: Along the left side you will see the list of available audio messages.
Edit Message: This will take you to the Edit screen for whichever audio message is highlighted. You cannot edit the default messages.
Delete Message: This will delete the highlighted audio message.
Play Audio: This will play music from the highlighted audio message.
New Message: This take you to the New Message screen.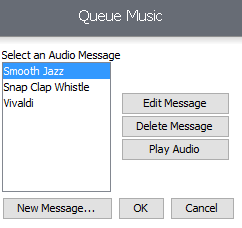 To add a new message, press the New Message button. Here you will be presented a few more options, defined below.
Message Name: Give your new message a name here.
 Phone Icon: If the Multimedia routing has already been setup, pressing the phone will prompt you to select an Agent. Select an Agent and press Start Recording to get the Agent's phone to ring. A brief message will play asking you to record your message after the tone. Record your message and, when finished, press #.
 Folder Icon: This will let you browse for an audio wave file to upload.
 Microphone Icon: This will let you use a microphone to record a message.
 Play Icon: Press to listen to whatever audio is currently setup.
The screenshot below shows an example of what you will see once an audio message has been uploaded or recorded.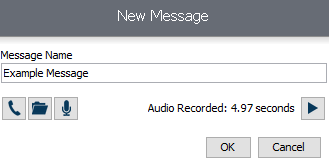 Once done, press OK to save. Your message will now be available for selection.